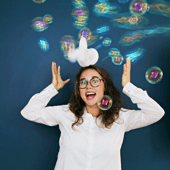 Amanda Carapi Sjölin
People Experience Partner – People & Finance
A self proclaimed Swede-who-isn't-very-Swedish. Amanda is more like a Brazilian goddess, who gets her enjoyment from loving life, nature, and everything in between. If you were to tell her that she could live on a beach eating fruit 100% of the time, she would rip your hand off.
When she's not lounging on a beach eating fruit, she's working in the People team as a People Experience Partner. Her passions at work are making people become the best versions of themselves, and ensuring everyone has what they need to thrive.

If you ever needed someone to listen to your problems, offer a friendly word of advice or talk about the planets and the universe, Amanda is your gal.