Sales Executive - Finnish Market
Haluatko olla osa matkaa kohti seuraavaa suurta tech unicorn:ia? Oletko kunnianhimoinen ja oletko sitä mieltä, että vain paras on tarpeeksi hyvä? Sitten voit olla seuraava tähtemme!
Oneflow on muuttanut tapaa luoda, lähettää, allekirjoittaa ja arkistoida sopimuksia. Tarjoamme "end-to-end"-ratkaisun, joka yhdistää kaikki sopimusprosessin vaiheet moderniin, helppokäyttöiseen ja tehokkaaseen sovellukseen. Konseptimme on ainutlaatuinen, innovatiivinen ja tavoitteemme on tulla globaaliksi markkinajohtajaksi. Pohjoismaiden kategoriajohtajat kuten mm. DHL, Futurice, Bravida ja St1 luottavat meihin sopimushallinnassaan. 

Toimenkuva
Sales Executivenä olet vastuussa koko myyntiprosessista myyntimahdollisuuksien luomisesta kauppojen klousaamiseen. Keskityt uusasiakashankintaan ja sinulla on näin keskeinen rooli Oneflown jatkuvaan kasvuun. Tämä tarkoittaa, että:
Vastaat asiakastapaamistesi sopimisesta ja uusien sopimusten tekemisestä ja loppuunviennistä päättäjien kanssa.
Rakennat, omistat ja kasvatat oman myyntipipelinen alusta loppuun. Pääset tekemään kaikkia myynnin vaiheita monipuolisesti ja itsenäisesti
Työskentelyotteesi on ratkaisukeskeinen joskus monimutkaisenkin myynnin kanssa, ja olet vastuussa keskisuurista ja suurista yrityksistä.
Työskentelet itsenäisesti, mutta nostatat tiimihenkeä omalla energisyydelläsi ja asenteellasi.
Oneflown Sales Executivenä saat arvokasta lisäkokemusta SaaS-myynnistä. Tarjoamme sinulle erinomaisen mahdollisuuden saavuttaa myyntitavoitteesi ja kehittyä jatkuvan koulutuksen ja sparrauksen avulla.
Edut
Tulet olemaan osa yrittäjähenkisyyttä, ja kansainvälistä kulttuuria, jossa vauhti on korkea ja kaasu pohjassa! Oneflowssa olet osa yritystä, joka mm. kasvoi 200 % vuonna 2018. Sinulla on suuri mahdollisuus vaikuttaa Oneflown tulevaisuuteen. Työskentelet ammattitaitoisten ja energisten kollegoiden kanssa, joten kehityt sekä henkilökohtaisella että ammatillisella tasolla.
Tämän lisäksi:
Osallistut koulutuksiin ja kehityt jatkuvasti ammatillisesti.
Kansainväliset uramahdollisuudet
Kilpailukykyinen palkkamalli (pohja, palkkiot ja komissiot ilman myyntikattoa)
Hyvinvointilisät
Toivotut ominaisuudet
Etsimme sinua, joka olet myyntiorientoitunut, nopea oppimaan ja positiivisella asenteella varustettu myynnin ammattilainen. Olet kilpailuhenkinen ja haluat työskennellä päivittäin asiakkaiden parissa. Sinulla on erinomaiset vuorovaikutus- ja neuvottelutaidot, ja ihmissuhteiden rakentaminen ja verkostoituminen on sinulle mutkatonta.
Lisäksi arvostamme sitä, jos sinulla on:
Hyvä ymmärrys myynnistä ja liiketoiminnasta
Aikaisempi, vähintään 2 vuoden, kokemus myynnistä
Hallitset suomen ja englannin kielen sujuvasti suullisesti ja kirjallisesti
Rekrytointiprosessi alkaa Talent and Culture -haastattelulla englanniksi, jota seuraa persoonallisuuden ja logiikan testi ennen palkkaavan esihenkilön haastattelua. Viimeisenä vaiheena prosessissa on Suomen maajohtajan tapaaminen.
Arvostamme tasa-arvoa ja monimuotoisuutta, ja pyrimme kasaamaan sellaisen tiimin, joka heijastelee yhteiskuntamme monimuotoisuutta. Toisin sanoen, toivotamme tervetulleeksi työhakemukset kaikilta työnhakijoilta ikään, seksuaaliseen suuntautumiseen, etniseen taustaan, erilaisuuteen tai koulutukseen katsomatta. Rekrytointivaatimuksemme perustuvat ainoastaan osaamiseen.
Hae lähettämällä CV ja henkilökohtainen kirje englanniksi, jossa kerrot siitä, miksi rooli on mielenkiintoinen, ja millä tavalla sopisit Oneflow-perheeseemme. Kuullaan mahdollisimman pian!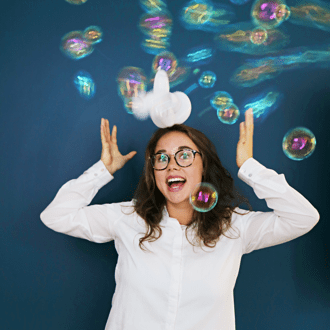 Say what?
We want the best people, that's why we hire from all over the world. Out of around 100+ colleagues, we represent 21 different nationalities. We're from Norway, Chile, France, Spain, Malaysia, Portugal, Egypt, Iran, Ukraine, USA, India, Germany, China, Finland, Hungary, Russia, Sweden, Poland, Bangladesh e.g.
Our working language is English, and you should strive to use it around the office, at lunch and in meetings as well to include everyone that doesn't speak the local tongue.
Check out our Culture Book! We've filled it with all the fun things which we think make working here so unique.
About Oneflow
Oneflow is a platform that automates the entire contract process from start to finish, all in one place. Turning clunky, static contracts into helpful, digital contracts.
Processes are faster, decisions are better, and deals are quicker. It's an easier, smoother, and smarter way for teams of all shapes and sizes to handle their contracts.
Sales Executive - Finnish Market
Haluatko olla osa matkaa kohti seuraavaa suurta tech unicorn:ia? Oletko kunnianhimoinen ja oletko sitä mieltä, että vain paras on tarpeeksi hyvä? Sitten voit olla seuraava tähtemme!
Loading application form
Already working at Oneflow?
Let's recruit together and find your next colleague.